Peu importe l'event, pourvu qu'on ait la babysitter
bee-boo est toujours à vos côtés si vous souhaitez engager un(e) ou plusieurs baby-sitters. bee-boo vous met en relation avec des professionnels qui ont été sélectionnés par nos soins et dont les références ont été vérifiées. Dans tous les cas, vous restez les employeurs du ou de la baby-sitter. Nous fournissons une aide inestimable pour les parents et/ou les organiseurs, dans les cas suivants (liste non exhaustive) :
Votre mariage
Celui d'un ami ou d'un membre de votre famille pour vous permettre de profiter de l'événement
Une soirée privée ou tout autre event
Une sortie ou un week-end en amoureux
L'anniversaire de votre boo'tchou ou celui de son frère ou de sa sœur
bee-boo vous offre ce précieux service grâce à une équipe formée spécialement à ce genre d'événements. Qu'il s'agisse d'un anniversaire qui réunisse plusieurs enfants qu'il faut divertir, d'un mariage où les enfants ont besoin d'un programme différent et de ne pas déranger les adultes, d'une soirée privée où les besoins des enfants sont distincts de ceux des adultes, d'une baby shower, etc., il est crucial de pouvoir compter sur l'appui de professionnels pour que les enfants soient encadrés et pris en charge de manière divertissante. Et surtout en toute sécurité.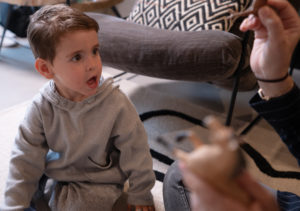 Témoignages
J'ai fait appel à Beeboo pour s'occuper de ma fille de 1 an, qui est pour le moins « énergique »… Mme Daligault a pris le temps de bien cerner le profil idoine et m'a proposé une personne géniale qui s'est adaptée rapidement à notre rythme familial soutenu … Zvejdana P.
Nous avons utilisé les services de bee-boo et sommes ravis de notre expérience. Nous recommandons chaleureusement cette société. Madame Daligault a su répondre à nos attentes et nos demandes avec professionnalisme et délicatesse. Le service bee-boo nous a permis de gagner beaucoup de temps et de trouver une nounou en phase avec nos critères. Merci à Madame Daligault d'avoir créée cette compagnie qui sauve les parents comme nous dans la recherche - d'habitude très compliquée en terre genevoise – de nounous au top !
Nous avons récemment eu la chance de pouvoir utiliser les services de bee-boo pour notre recherche de nounou pour notre fils. Vaïluna a été parfaite et très à l'écoute dès le premier contact, a su cerner nos attentes et répondre à nos demandes avec bienveillance et professionnalisme. Grâce à elle et nous avons maintenant la nounou idéale pour s'occuper de notre petit ! Il ne nous reste plus qu'à vivement recommander bee-boo !
I strongly recommend bee-boo.ch. The staff is very professional and the nannies have been great listeners with us and with our 2 year old son. They have always provided us with solutions even for last minute requests. Leslie M.